RESIDENTIAL SERVICES
Your property deserves the best. Offering years of skill and expertise, Concrete Mobile Mix provides refined workmanship that your home deserves. No matter how big or small the concrete project may be, you can depend on us to carefully and efficiently deliver results you will be proud of. Our concrete mobile mixing company will exceed your expectations! Let us serve you in Northern Colorado today. Our delivery trucks will get to your project promptly. 
Take Your Property to the Next Level
Tough, beautiful, and completely customizable, our concrete company provides concrete that is a powerful asset. Let us fulfill its potential for you. Whether you need a large patio, a wheelchair-friendly walkway, or garden edging, we will give you the best workmanship that no other concrete companies can complete. We are different from the rest because we mix concrete on-site, customizing the color and preventing waste. Thanks to our high-end concrete delivery trucks, we will save you 10-20 percent immediately! We offer a lower cost of concrete, unlike the concrete cost from a traditional barrel drum truck. Tell us your vision and we will bring it to life with our concrete mobile mixer and skilled team. 
Schedule a Consultation Today
Privileged to provide homeowners with beautiful concrete forms, we mix, pour, and shape your perfect concrete project. All you have to do is call on Concrete Mobile Mix, then sit back and relax while we do the hard work for you! We understand the importance of communication and will always provide updates and follow-up with important information. We will keep you in the loop beginning with your first contact, to the delivery trucks arriving, and completion of the work done.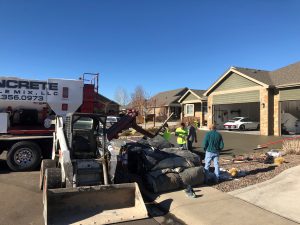 PATIOS
Fort Collins has beautiful summers, and the most wonderful scenic views, and it is no wonder that many of us Coloradoans love to spend time outdoors. Your patio should be a space where you can relax and read a book, or host a neighborhood barbecue. Upgrade your outdoor living space or business with a fully customized concrete patio. Select the colors, textures, and visual specifics that match your landscape personality. Our ready-mix concrete will save you time and bring you joy on those summer nights or chilly winter evenings with an outside fire on the patio. Concrete Mobile Mix has the equipment needed, the design ability to help you achieve the patio outdoor experiences. We are the best local concrete company in Northern Colorado.  
SIDEWALKS
Your vision of a beautiful backyard with flowers, trees, and pathways, can be achieved with the help of Concrete Mobile Mix. We have experience with pouring the perfect sidewalks to complete your dream backyard. Talk to us about how we can bring our concrete mobile mixer and talented team to help you design a walkway. Like every project we complete, your sidewalk can be customized to show a little bit of your personality and enhance your landscaping uniqueness.