Our Concrete Delivery Services
Residential | Commercial | Municipal | Oil Field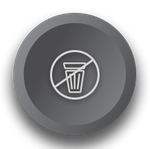 No Waste
Our concrete delivery trucks only mix the exact amount of needed concrete and you only pay for what you use.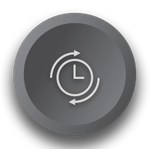 Flexible Timing
We even deliver on the weekends and in the cold weather! Your job doesn't have to pause just because of bad weather!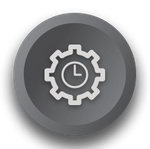 Guaranteed Efficiency
Concrete Mobile Mix reduces unused products and increases productivity through a quick, quality product.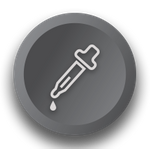 Color Options
Your next concrete project can be dyed to match the exact look you want. Contact us today for options.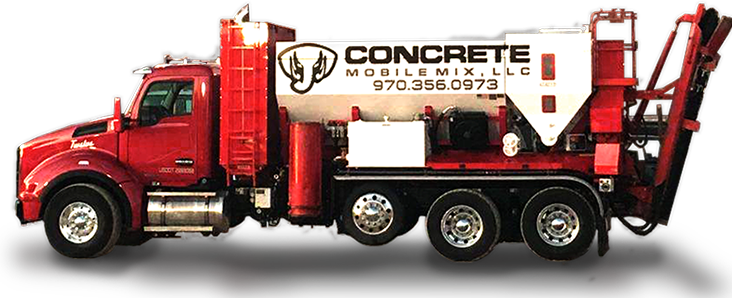 Northern Colorado's Preferred Concrete Delivery Company
At Concrete Mobile Mix (CMM), we are based out of Greeley, Colorado, and are poised to take on concrete projects of any size. We elevate Northern Colorado's concrete mobile mixer industry by offering unique on-site capabilities and add-ons, and are skilled and committed to achieving your concrete mix needs with precision and excellence. We work hard to complete concrete mix and pour projects in a timely and efficient manner while providing results that will stand the test of time.
Our concrete mobile mixers are highly trained and we offer the best delivery trucks equipped to provide the exact concrete you need for your project. Additionally, we bring cutting-edge equipment and an eye for detail you won't find anywhere else. If you're looking for a concrete delivery company you can trust to get the job done right the first time, call our team at CMM today to get started!
Residential Concrete Delivery Services
At Concrete Mobile Mix, we understand improving the curb apparel of your home is something that's important to you. After all, it's the first thing people notice when they arrive at your home. While most people think residential concrete projects are costly and time-consuming — we are here to tell you that just isn't true! When you use our residential concrete delivery services, we provide you with the exact amount of concrete you need for your project, reducing waste and saving you money. We have extensive experience in pouring concrete for a variety of residential projects, including the following.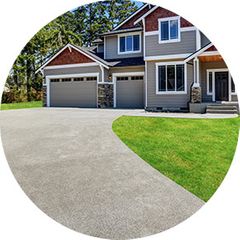 Driveways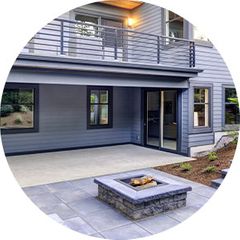 Patios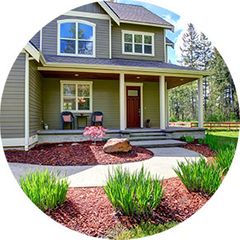 Walkways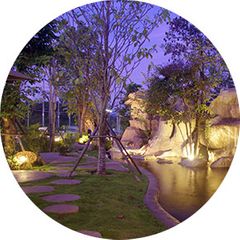 Garden Edges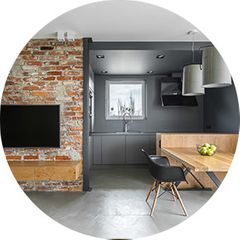 And Much More!
But, do you know what the best part is? We also have the technology and tools available to mix any color of concrete you want right at the site of the project. That way, you can make sure the concrete poured is cohesive with the rest of your property. Ready to get started? Get in touch with us today, and we will handle the rest!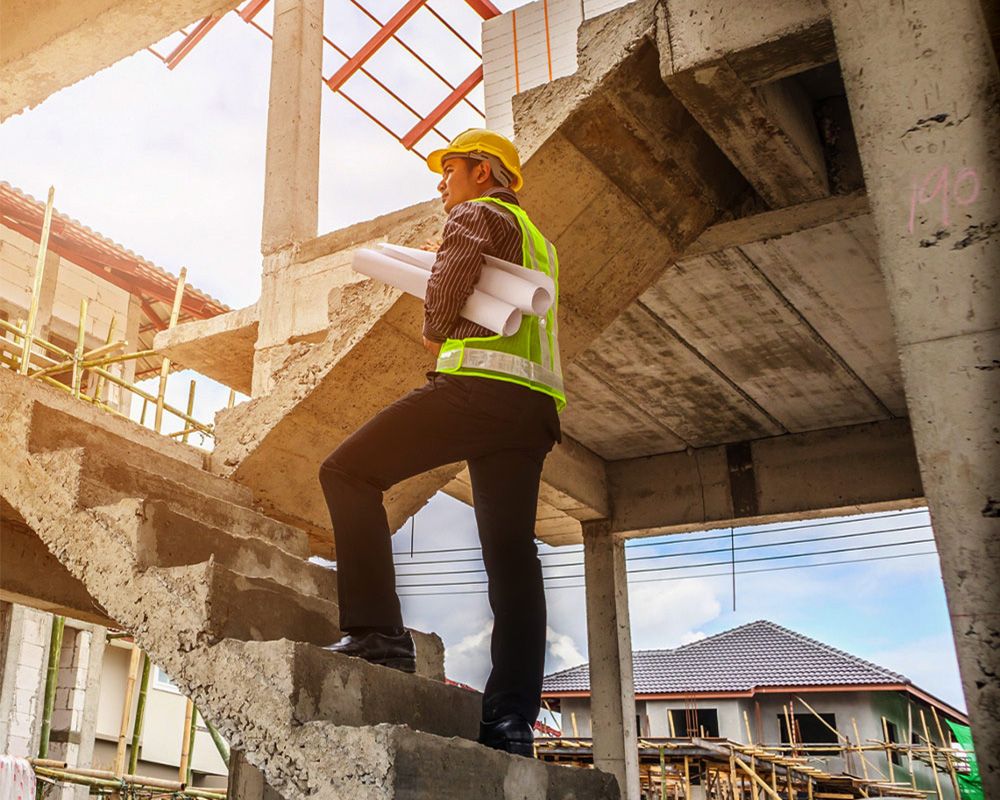 Commercial Concrete Delivery Services
As a business owner, you want to put your best foot forward and make a great first impression on your customers, right? Our team can help you keep your brand going strong with beautiful parking lots, sidewalks, and more. We understand when you have a business to run and customers to assist, it's hard to find time in your busy day to complete your concrete project. That's why we offer weekend and evening appointments to our customers. This enables us to deliver outstanding workmanship without you having to pause your day-to-day operations. There's no project too big or small for us to handle!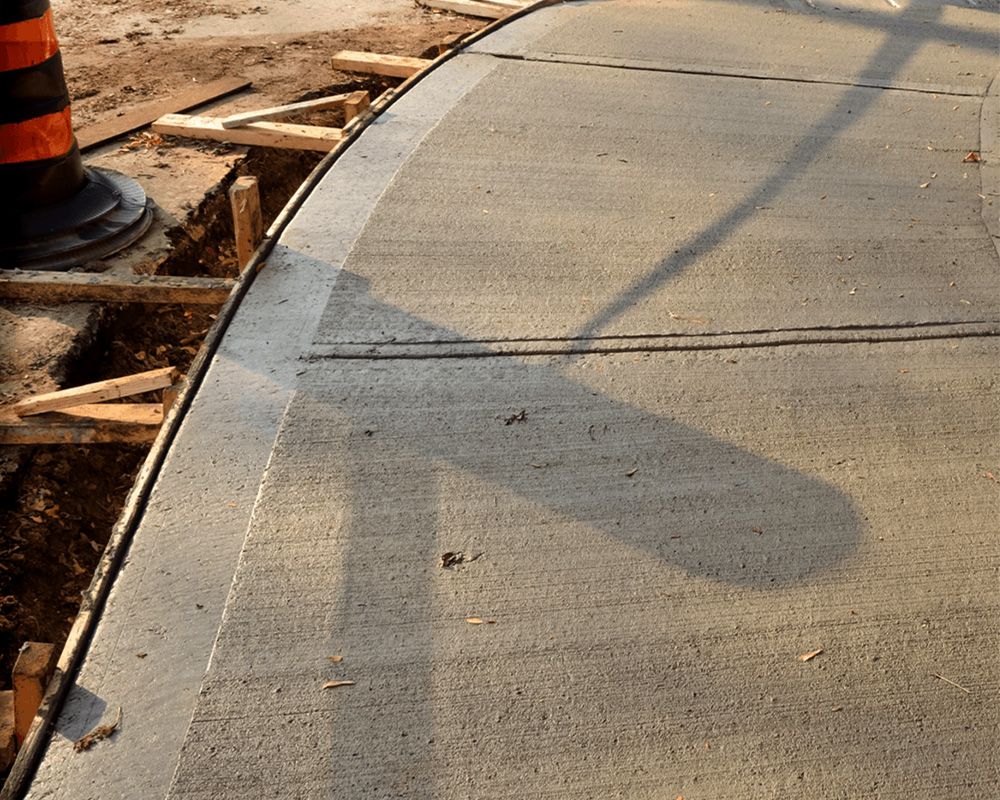 Municipal Concrete Delivery Services
We are a locally-owned and operated municipal concrete delivery company in Northern Colorado, and we are honored to serve our community in any way we can. We take great pride in being able to help the cities across the Front Range look beautiful and inviting for all to enjoy with our custom-mixed concrete. Whether you're looking for a volumetric concrete delivery company to assist with sidewalks, barriers, planters, or more, we can do it all. We have the tools and equipment to mix the exact amount of concrete you need for your project, eliminating waste and saving you money!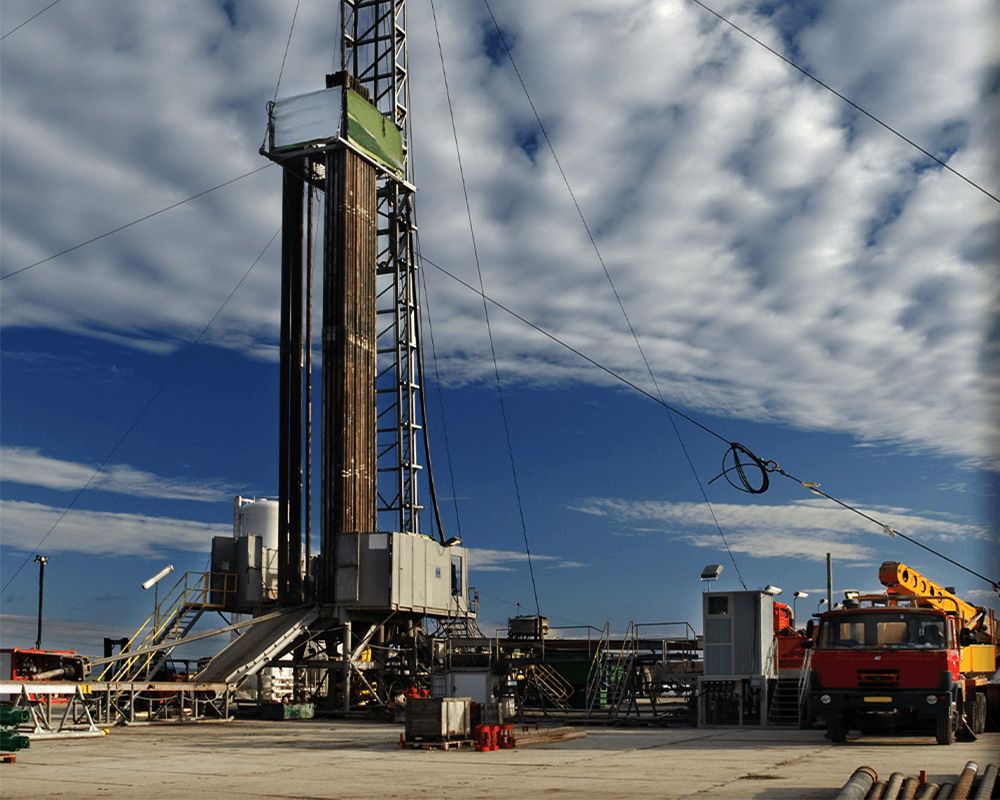 Oil Field Concrete Delivery Services
Our volumetric concrete delivery company proudly supports all of the hardworking people in the Northern Colorado area including the oil field industry. We are honored to be able to offer world-class concrete solutions for oil field sites to make your jobs easier. When you hire our concrete delivery company for the job, you can have complete peace of mind that we will get the job done right the first time, allowing you to focus on the more important tasks you have at hand. No matter how large or small the concrete project is you're working on, we will provide you with the exact amount you need to complete the project.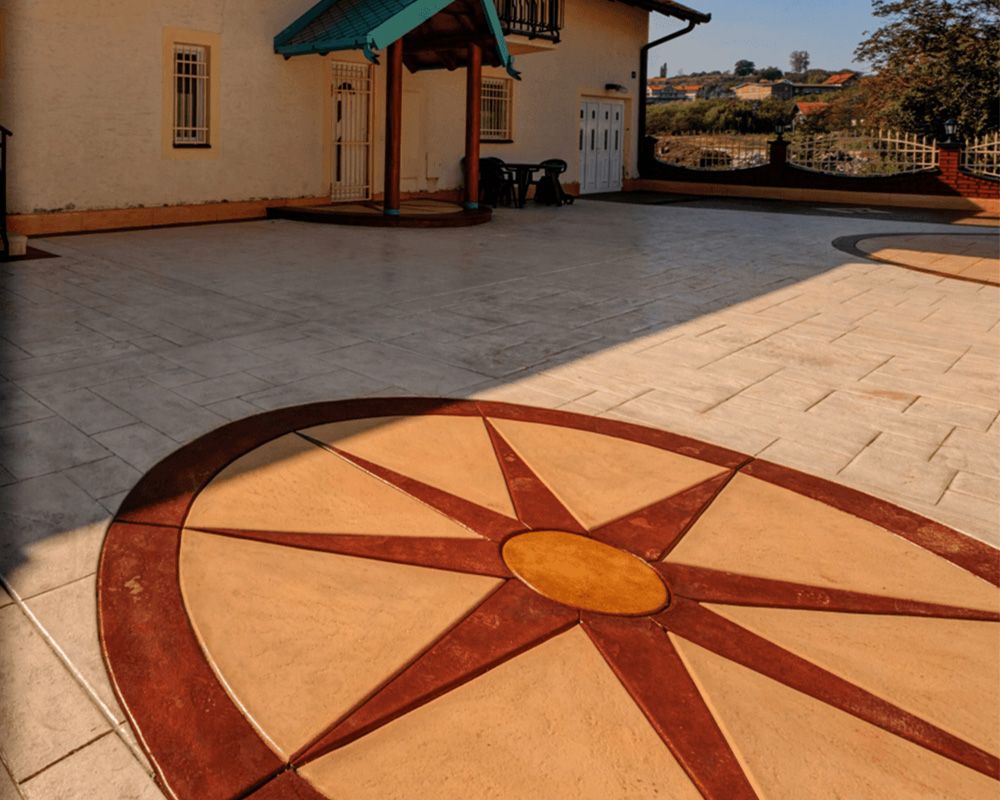 Concrete Color Matching
We don't mean to brag, but when it comes to color-matching concrete, we are basically wizards. Whether you're needing to match the new concrete you're having poured to an existing color, or you're wanting to create a new color to implement, we're your crew. Just tell us the color you're envisioning, and we will make it happen!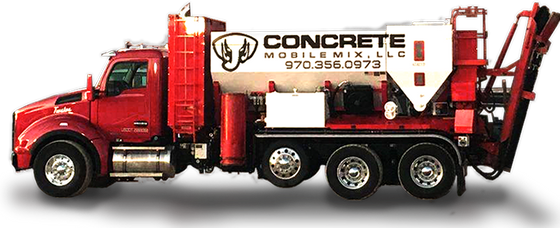 "Great company!!! From the concrete to the invoicing they have great, fast reliable service and are always there to help you. Highly recommend!"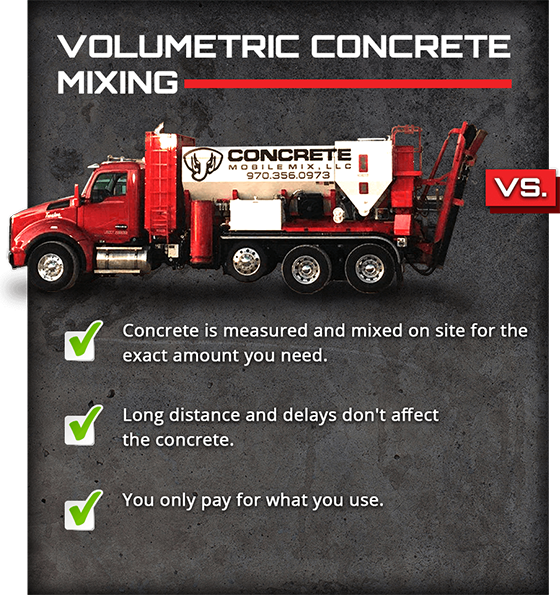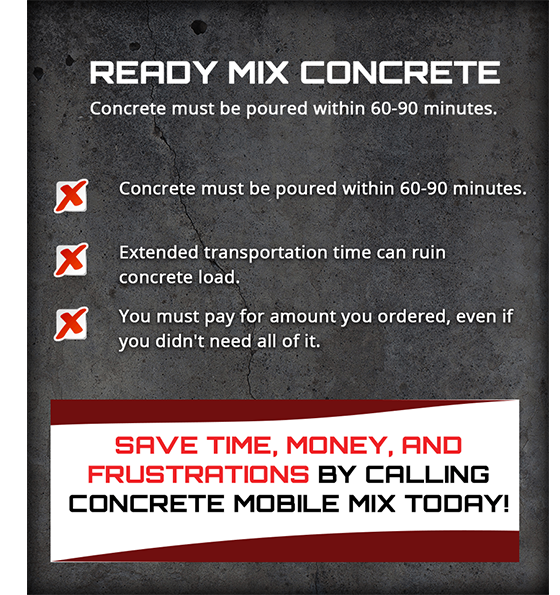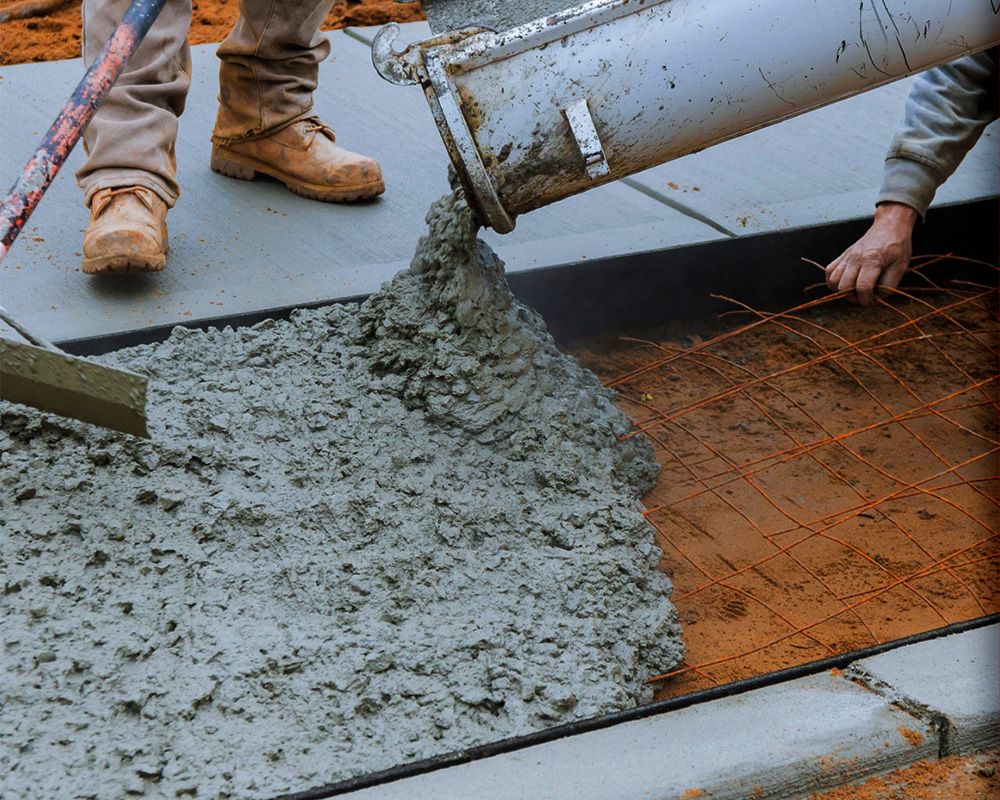 Use Our Concrete Delivery Services Today!
From residential and commercial concrete delivery services to municipal and oil field concrete delivery services, there is no project too big or complex for our team to handle. We pride ourselves in using volumetric concrete for all of our projects, seeing as it eliminates waste and saves our customers money. For all of your future concrete projects, contact us at Concrete Mobile Mix to get the job done right, the first time. If you don't see the service listed on our website you're looking for, reach out to us and we will help you find a world-class solution.
Our team will work one-on-one with you to get your concrete project completed. Whether you are upgrading, repairing, or adding to your home's concrete, you are a commercial business wanting to achieve a great first impression to potential clients, or the volumetric concrete project is for municipality purposes, Concrete Mobile Mix is the best mobile mix company in Northern Colorado.
Serving Northern Colorado residential homes, commercial businesses, and municipalities with the best quality concrete delivery. Professionalism and excellence are our priorities. We care about our customers, we strive to make your concrete projects affordable and long lasting, and we will get the job done with the most time efficient mobile concrete delivery truck possible. Contact us today!