Municipal Concrete Delivery Service
Municipality Services
At Concrete Mobile Mix (CMM), we take pride in helping the hard-working teams of people who maintain the beauty and vibrancy of Northern Colorado communities. Our concrete mobile mixer company offers the best cost for all your concrete needs and we are committed to helping cities save money! Whether you need a highway median or a plaza in your city center, we are the team to call in Northern Colorado. We are proud to be the go-to concrete company that makes it easy to enhance and beautify public spaces of all sizes.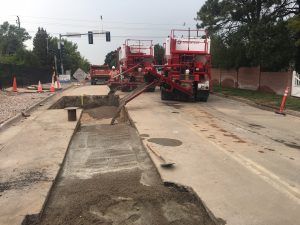 Transform Your Community
Your community deserves more than generic and expensive concrete that may or may not last as long as advertised. We are invested in all of our local communities and surrounding areas, we only employ the most elite experts for your concrete delivery needs. Choosing our concrete mobile mixer company means convenience — we bring the mixing process to your site in one of our concrete delivery trucks that offers cutting-edge precision, finely tuning your concrete to match your exact needs.
Our state-of-the-art concrete mobile mixer minimizes waste, which means the cost of concrete is the most affordable option for your concrete needs — the way concrete should be charged. It also means we can produce colors and give you results you and your community will love!
Let's Get Started
Whether we are pouring a driveway or constructing a colorful mosaic, every concrete pour is a masterpiece for us. At Concrete Mobile Mix, we give every concrete project the same care and attention to detail. Additionally, every client we serve appreciates the concrete company with a concrete mobile mixer for precision and the cost of concrete and will love the best customer service offered in the concrete mixing industry.
We are the whole package in concrete production and professionalism. Rely on our team at CMM for all your concrete mobile mixer needs. You'll be glad you did because our word is as solid as the concrete we mix and pour!