The Best Flowable Fill for Utilities
Northern Colorado's Local Concrete Company of Choice
Save Time and Labor with Flowable Fill
Flowable fill is a material that strengthens an area as a fill or backfill material. It has a flowability consistency and was developed 20 years ago to problems with granular fill. With regards to utilities, there are many uses for flowable fill, from bedding and backfill for utility trenches to paving a subbase, bridge abutment, and in use with retaining walls.
Concrete Mobile Mix offers the best flowable fill services in Northern Colorado. With no required tamping or compacting, flowable fill easily fills voids for a complete solution to backfilling with 100% compaction. Call us today to get started!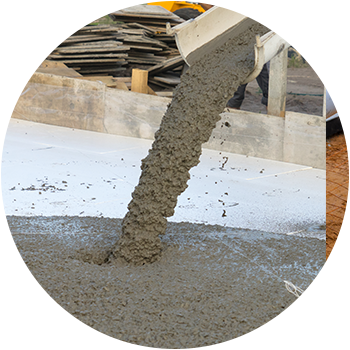 MOST COMMON FLOWABLE FILL USES FOR UTILITIES:
Backfill
Conduit encasements
Retaining walls
Utility trenches
Sub footing
Floor-slab base
Erosion control
Underground tanks
Retaining walls
And so much more!
Flowable Fill for Utilities

The Benefits of Flowable Fill
The benefits of using flowable fill cannot be overstated. The savings can be significant, especially if you are using a lot of it. You will save on equipment, labor, and time. Flowable fill is self-compacting and self-levelling. It's great for most utility uses. Flowable fill also improves the safety of your employees. For example, when making a trench, you are required to shore up the sides in order to prevent it from collapsing. With flowable fill, no employees have to enter the trench.

Flowable fill is best delivered by a concrete mixer truck, especially a volumetric mixer truck. Pumps, chutes, and buckets work well with flowable fill, and for better pumping, using some kind of granular material is recommended.
Whether you need a trench shored up or you just need a retaining wall at your utility location, we can help. As demand for more communication, electricity, gas, water, and other utility needs increase, you'll need ways to save money, time, and cost. Call Concrete Mobile Mix today for all of your flowable fill for utility needs in the Northern Colorado area!
Our team will work one-on-one with you to get your concrete project completed. Whether you are upgrading, repairing, or adding to your home's concrete, you are a commercial business wanting to achieve a great first impression to potential clients, or the volumetric concrete project is for municipality purposes, Concrete Mobile Mix is the best mobile mix company in Northern Colorado.
Serving Northern Colorado residential homes, commercial businesses, and municipalities with the best quality concrete delivery. Professionalism and excellence are our priorities. We care about our customers, we strive to make your concrete projects affordable and long lasting, and we will get the job done with the most time efficient mobile concrete delivery truck possible. Contact us today!